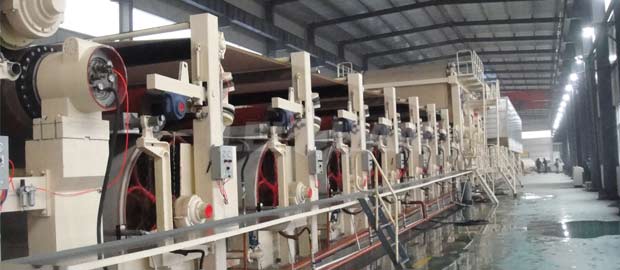 Yarn tube paper is mainly used in the production of cores and pipes. For example, industrial pipes, plastic film pipes, firework pipes, spiral pipes, parallel pipes, various paper corners, cardboard boxes, honeycomb cardboard, etc. One of our customer use LOCC and AOCC as raw material, leizhan provided whole set of stock preparation line equipment. The technical engineer designed reasonable flow chart on the basis of customer's requirements. The stock preparation line equipment specifications of 450t/20h high grade yarn tube paper machine as below.
Yarn Tube Paper Machine Pulping Line Equipment Specifications
Chain Conveyor: Work width 1400mm, Expected total length 23m
Bale Breaker: Ø3250mm 500~600T/D
Chain Conveyor: Work width 1800mm, Expected total length 28m
D Type Pulper: 60m³ h=12mm C=3~5%
1st High Density Cleaner: Q=5800~7500l/min, C=3~5%
2nd High Density Cleaner: Q=4500~5800l/min, C=2~3%
1st Mid Density cleaner: A=3.0m2 s=0.60mm, C=3~4%
Reject Separator: Ø380mm C=1~2% Ø4.5mm
Mid Consistency Cleaner: Q=8000~12000l/min, C=2~3%
Fiber Fractionating Screen: A=4.0m2 s=0.20mm C=2.5~2.8%
Long Fiber 1st Low Density Cleaner: 600 l/min,C=1.0~1.2%
Long Fiber 1st Fine Screen: A=3.0m2 s=0.25mm C=1.2%
Long Fiber Disc Thickener: A=180m2 The fan disk diameter is 3500mm, the number of fan disks is 12, C is out 4~6%
Double Disc Refiner: Q=450m³/h, H=28mm,C=3~5%
The technical engineer designed yarn tube paper pulping line flow chart and provided excellent solutions for customer. We are able to supply OCC, LOCC and AOCC complete paper pulping line machine, pulper, cleaner, and screening machine and so on. Welcome to contact with me for more details about 450t/24h yarn tube paper machine. Email address: leizhanchina@gmail.com.