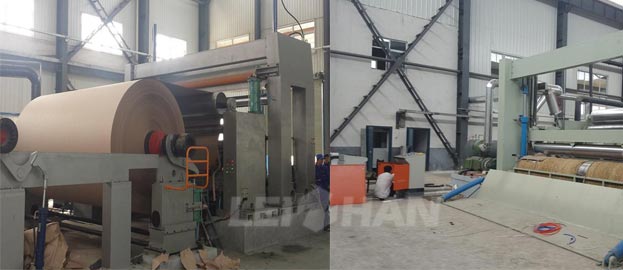 In paper making industry, rewinder is the final link in paper roll making process, the original paper roll from paper machine, must through rewinding then as final paper to leave factory, because paper making process is successional, to change the paper roll don't have to stop the machine; But the work of rewinder is batch-type, every time when change the paper roll must stop the machine, and in general, a original paper roll maybe divided into several times then can finish the rewinding, there are few times stop process to change new paper element, begin a new rewinding process.
Therefore, if the working speed of rewinder is not quickly enough, maybe cause the rewinding time longer than paper making time, result the backlogs of the original paper. However, the space area of of workshop is limited, and the scroll to produce original paper roll is limited, if can not rewinding on time, one is the space to place paper roll is not enough, two is don't have the scroll, then force paper machine stop.
Leizhan Rewinder Advantages
1. The cutting end is flat and smooth, no step shape;
2. Paper roll is tight inside but loose outside, the residual stress is very small;
3. High working speed, big diameter of paper roll, automatic operation, save cost.
Any more details about paper converting machine rewinder, welcome to consult us: leizhanchina@gmail.com.