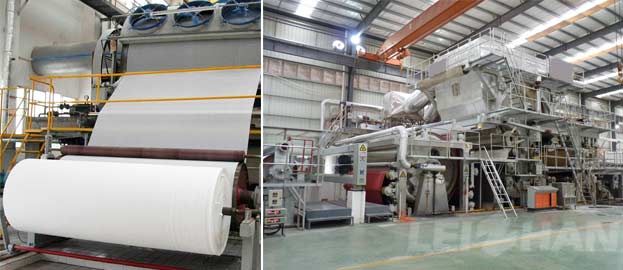 One of our customer ordered a toilet tissue paper making plant to produce toilet paper, here are the details about 25t/24h toilet tissue paper making machine.
Toilet Making Equipment Specification
Raw Material: Virgin pulp
Paper Grade: Toilet paper(reeling machine 16-40gsm, wire part 13.5-35gsm)
Production Capacity: 25t/24h, wire part gsm 13.5, reeling part width: 2750mm, 100% production efficiency.
Net Production: 21.2t/24h, wire part gsm 14.5, reeling oart width: 2650mm, 85% production efficiency.
Dryness: 25t/24h
Toilet Paper Machine Specification
Max Working Speed: 500m/min
Balanced Speed: 600m/min
Design Speed: 600m/min
Width: 3200mm
Gauge: 3900mm
Final Paper Width: 2900mm
Paper Roll Width:2750mm
If you want to know more details, welcome to consult us: leizhanchina@gmail.com.