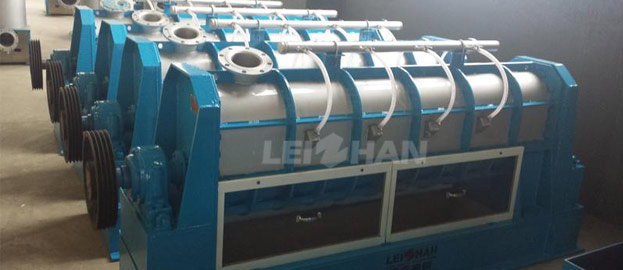 Impurity separate is a very important procedure in paper pulping process if we want to get high quality paper. Reject Separator machine is applied for fiber relief and impurities separate ( such as plastic, etc )for tailing in the coarse screen system for waste paper pulp. The tailing from Mid Consistency Pressure Screen flow into Light Impurity Separator and then get into Reject Separator.
Reject Separator Features
1. Well-designed rotor produce centrifugal force in the process of rotation in a high-speed way, at the same time, pulp will be relieved effectively by backwash water. Achieve stock and impurities can easily be separate.
2. The working condition is closed, which is very clean.
3. It's easy and convenient to maintenance because of the openable upper cover.
Specification Of Reject Separator
The capacity of Reject Separating machine is according to paper maker's demand and our engineer will design the best project for you. This reject equipment is energy-saving, motor power is just from 22kw to 37kw, which can greatly reduce the investment.