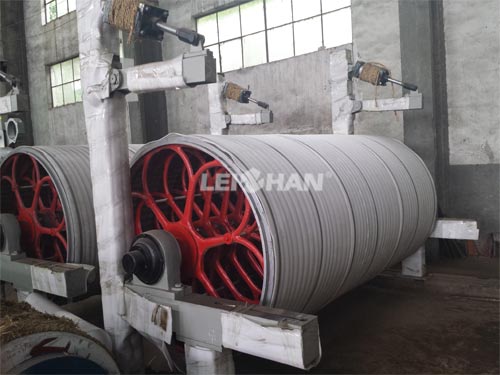 Product Description
Cylinder mould is used in the forming section of paper making machines and thickener, our cylinder mould features in high speed, high strength, low power consumption, long life time for wire.
Main Character:
Different Usage Type: paper making cylinder mould, concentrate cylinder mould.
Different Structure Type: common, air exhaust, vacuum.
Different Material Type: stainless steel
Specification Diameter(mm): 1000, 1250, 1500, 1800, 2000
Working Face Range: 1000-5000mm
Main Characteristics: improve water filter area and speed, increase the capacity.
Technical Parameter:
Diameter 1500mm
Face length 2000mm
Diameter of SS stick 12mm
Qty of SS stick 80
Qty of middle supportchip 14 pcs
Thickness of SS strip 15mm
Diameter of axis 180mm
Bearing model 113624
Stainless steel winding scrip δ= 1.5 ×25mm
Outer arm of wheel made by cast iron
Inner arm of wheel made by cast iron
Pull rod   Q235A   3sets
Axle: it is made byΦ180mm seamless steel pipe. Wall thickness is 14mm. the material of spindle nose is carbon steel., thermal refining.
Technical requirement: surface polishing, winding scrip chamfering, knurl treatment, straightness of oversheet≤0.025mm/m, static equilibrium.
Dimension: 1.6mx1.6mx2.4m
Weight: 1ton per set
Cylinder mould manufactured by Zhengzhou Leizhan Technology Paper Machinery Co., Ltd are of superior quality, good performance and high efficient, we can provide you with competitive price. With more than 30 years' development, our paper machines and pulp equipment have won lots customers from all over the world. Cooperate with us is your wise choice. If you have any need, please feel free to contact us. Welcome you to come and visit!