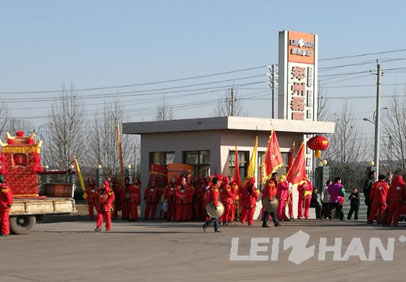 Yesterday is the 15th Feb. of Chinese lunar calendar, and it is the lantern festival in China. Lantern festival is a day of family reunite, people should stay with family and eat sweet dumplings. Chinese people regard lantern festival as the most important day in the year.
In the past year, leizhan supplied hundreds paper making machine and signed dozens of contracts with paper mill around world. The order form has arranged to August 2017, which is a the best proof to the quality of Leizhan equipment.
In order to celebrating the excellent achievement gained last year and the beautiful Chinese lantern festival, Leizhan holds dragon dance and lion dance show to wish a better success in this year and rich the festive air as well.
Besides , Leizhan also wishes the factory worker have a nice festival day and the factory worker enjoy the show and make a good wish to the new year.
Leizhan not only focus on producing high-quality paper making machine to customers, but also shows loving care for factory staff, representing the humanistic care to the worker.
Trust in Leizhan, gain success and achievement!