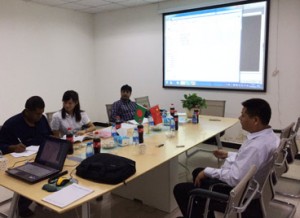 In the first quarter of 2015, Leizhan paper machinery company signed the contract with Bangladesh Customer to deliver the whole set of pulp stock preparation line for its new paper preparation project.
Pulp stock preparation equipments Leizhan to deliver for the Bangladesh customer include: Chain conveyor, Pulp chest agitator, etc.
Chain conveyor: It is used for conveying waste paper, pulp board in bulk and bundle. Large capacity, low motor power.
Pulp chest agitator: Mainly used to stir pulp cyclically in chest to maintain the pulp liquid in suspending condition. Advanced blade design, adjustable angle.