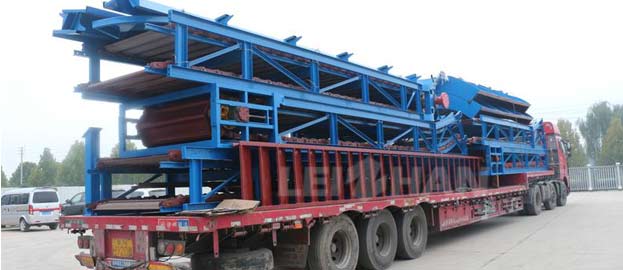 Guangdong paper mill purchased Leizhan complete set of pulping equipment to produce four layer white paper, here is the delivery site of waste paper conveying machine chain conveyor.
Chain Conveyor For Paper Mill Delivery
Paper Mill: Guangdong Yaode Paper Company Co.,Ltd
Project: Whole set of 250,000t per year four layer white paper making project
Delivery Equipment: 1400mm and 2000 mm Waste Paper Conveying Machine Chain Conveyor
Chain Conveyor is used to conveying waste paper and pulp board, the feeding capacity of 1400mm chain conveyor is 80-255m³/h, max.limit of material is 1200mm, and motor power is 7.5kw; 2000mm waste paper conveying machine feeding capacity is 140-390 m³/h, max.limit of material is 1800mm, and it's motor power is 18.5kw. We will design the suitable size for paper making friends depends on your actual need, welcome to consult us if you have any need: leizhanchina@gmail.com.