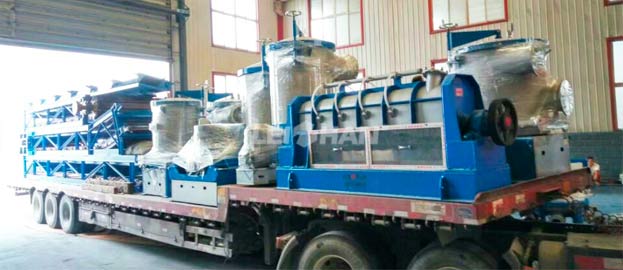 On August 15th, 2016, Leizhan paper pulp equipment like Chain conveyor, Pressure screen, Reject separator, were loaded for delivering to Xinjiang, China customer's factory for its new kraft paper making plant.
According to the contract, Leizhan will deliver the full kraft paper and pulp making plant machine for Xinjiang customer. The new plant adopts Leizhan latest technology and equipment.
Paper Pulp Equipment details for paper plant
Chain conveyor: Mainly used for conveying various kinds of pulp board, waste paper in bulk and in bundle which can be horizontal conveyor or inclined conveyor(<30°).
Pressure screen: Mainly used for coarse and fine screening of various waste paper pulp.
Reject separator: Used for fiber relief and impurities separate for tailing in the coarse screen system for waste paper pulp.