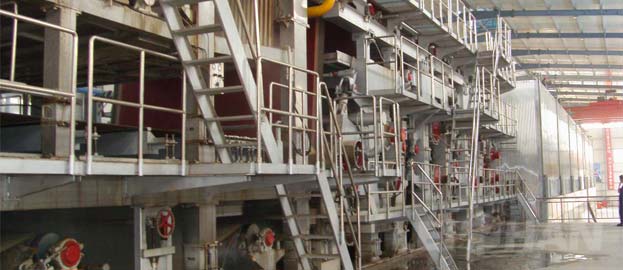 Using white refining pulp or fine waste book newspaper pulp as raw material to produce greyboard paper, mainly provide binding covers for books, catalogs, etc. Leizhan supply the complete set of greyboard paper production, here are the details as reference.
Greyboard Paper Production Process
Waste paper(newspaper)→Hydrapulper→High Density Cleaner→Double Disc Refiner→Pressure Screen→Thickener→Inflow Pressure Screen→Greyboard Paper Machine→Calender→Greyboard paper reeling machine.
Techinical Condition Of Greyboard Paper Making
1. Pulp ratio: Waste book newspaper pulp 100%
2. Pulp beating: Pulp from waste paper dealing process, need further beating before greyboard paper making, adopt Double Disc Refiner, Slurry beating degree: 34-36°SR, fiber wet weight: 4.5-6.0g
3. Pulp consistency on the wire: 0.24-0.3%
4. Working speed: 28-32m/min
5. Single layer basis weight: 35-40g/m²
6. Wet paper moisture: 70-72%
If you have need question about greyboard paper making, welcome to consult us: leizhanchina@gmail.com. Our professional sale manager will provide corresponding solution for you.