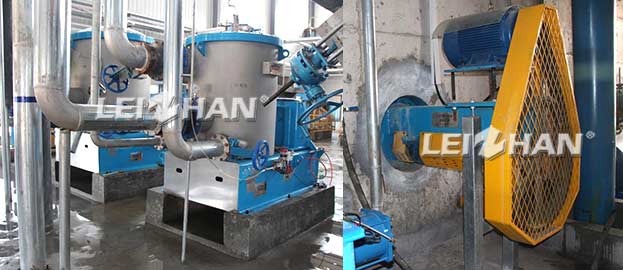 Paper egg tray making machine is used to produce paper egg tray. The main working process of paper egg tray machine is composed of pulping system, forming system and drying system. Paper tray making machine is mixing the waste paper and water. When it reaches the certain concentration, the egg tray pulp can be conveyed to forming machine. When it forms a paper egg tray, the egg tray paper needs to dry because the paper egg tray has some water after forming. Then, you can pack the paper egg tray after drying.
Egg tray pulp stock preparation system
Leizhan supply paper egg tray stock preparation equipment to Malaysia customer, the pulp stock preparation system includes: Chain Conveyor, D Type Hydrapulper, High density cleaner, Vibrating Screen, Pulp chest agitator, Inflow pressure screen before paper machine, etc.
Egg tray stock preparation equipment
BFW1200 chain conveyor is used for conveying LOCC, which need to be inclined conveyor(<30°). Then the waste paper is loaded into 2 sets of D Type Hydrapulper, and the D-Pulper material is sus304 and the volume of Hydrapulper is 10m3. Then ZSC3 high density cleaner, Vibrating Screen and Inflow pressure screen will remove all kinds of impurities in the paper pulp. Pulp chest agitator is used to stir pulp cyclically in square chest to maintain the pulp liquid in suspending condition, which ensures the pulp components even distribution ,and it is good for fully reaction of chemical liquid.