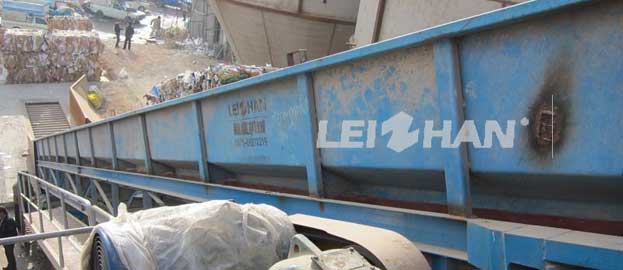 Corrugated paper is the most common paper used in daily and commercial life. Leizhan produces a newly two layer corrugated paper pulping line for an Indonesia paper mill.

Two Layer Corrugated Paper Production Plan
Raw Material: LOCC
Production stage: pulping and forming
Production capacity: 100t/d
Total Motor Power: about 857Kw
Pulp Power Consumption per Ton: 85.7Kw
Production period: about three months(from design to finish)
Installation: By Leizhan engineer
Delivery way: sea transportation
Maintenance: Leizhan equipment has a long service life and not easy broken. Within one working year, Leizhan provides maintenance service.

Two Layer Corrugated Paper Pulping Machine List
The two layer corrugated paper pulping line mainly consist of conveying, pulping, cleaning, screening. The needed machines are designed according to the 100tpd production capacity.
1. BFW1200 Chain Conveyor. Capacity: 60-220m³/h
2. ZDSD26 D Type Hydrapulper. Capacity: 140-180t/d
3. Unloading Pulp Pump
4. ZSC5 High Density Cleaner. Capacity: 4500-5800L/min
5. Agitator
6. FQJ0.4 Light Impurity Separator.
7. PZ2 Reject Separator
8. White Water Chest
9. Pump