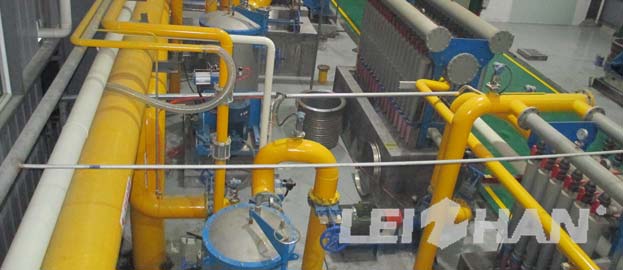 Shipment packaging is a kind of container board, belonging to corrugated cardboard. So shipment packaging production procedure is same with corrugated medium making way.
450tpd Shipment Packaging Making Project
Cause the corrugated cardboard is heavier than other type paper, so the need of pulp fiber is also pretty large while the raw materials has no limited.
Raw materials: recycled corrugated paper, waste paper(daily and industry)
Production procedure: pulping, screening, cleaning, refining
Needed equipment: Chain conveyor, hydrapulper, pressure screen, cleaner, refiner, agitator, ragger, grapple (pulping machines like different type pressure screen and pulper are mounted in the line to keep the pulp fiber production capacity and consistency reach to the standard request.)
Working system: Automatic control system
Driving energy: water source and electric energy
Production capacity(t/d): 450
Equipment core technology: stainless steel manufacture, low energy consumption, long service life, easy maintenance
Leizhan Positive Experience In Supplying Paper Making Machine
In the past years, Leizhan has signed hundreds contracts with paper mill around world to supply them high-quality paper making equipment.
For example, Leizhan signed dozens contract in Indian paper mill, including New Delhi, Bombay, Pune and so on, providing kraft paper production line, corrugated paper production line making machine.
Except the positive experience, Leizhan also master key technology to strengthen the machine quality, especially the VOKES rotor used in hydrapulper can save energy at a largely extent.
Leizhan focues on producing pulping equipment in paper making line, over 40 type machine can be chose to meet different production need.