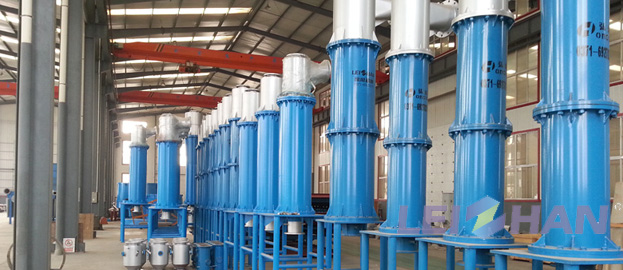 Overview Of High Density Cleaner
High Density Cleaner is always used after pulping in paper making process, and is mainly applied to remove all kinds of heavy impurities in paper pulp, like staples, stones, glasses, etc. The specially designed long cone has a small taper angle, making sure a fine cleaning efficiency.
The high density cleaner produced by Leizhan has six types that can meet the production capacity from 25-380t/d.
High Density Cleaner Used in Paper Production Line
Leizhan produced a set of high density cleaner for a Iran paper mill this week. In the paper making project, the specification of the high density cleaner is:
Diameter of input(mm): φ100
Pressure of input(Mpa): 0.14-0.22
Pressure difference(Mpa): 0.010-0.015
Flow capacity(L/min): 1400-2500
Concentration of input(%): 2-5
This kind of high density cleaner can make sure that the consistency and quality of pulping fiber attain a ideal level.