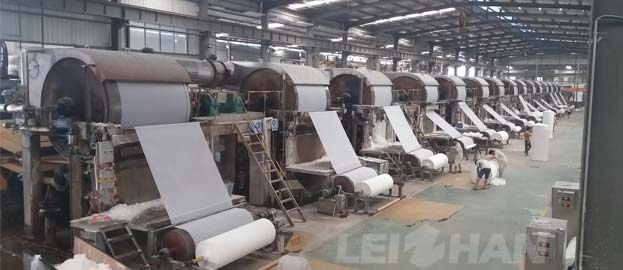 High efficiency, energy saving is the pursuit of paper mill, if we want to achieve this goal, not only need to attention the selection of paper making equipment, right use and how to use is also an important factor.
The main approaches energy saving and consumption reduction for paper mill is rely on the scientific progress, adopt new technology, new material, new craft, energy saving equipment, adopt new type dewatering equipment, wide area press, fully enclosed gas cover, heat pump, heating recovery technology, etc.
Paper Machine Energy Saving
1. Wire Part:
(1)Reasonable use dewatering elements: control pulp beating degree, control the temperature of wire feed pulp, adjust a suitable PH for pulp and control the hardness of pulp;
(2)Make full use of paper making white water, reclaim heat from white water; High consistency forming, can reach the goal of water saving, power saving, saving space and investment.
2. Drying Part:
(1)The gas hood of drying part adopt fully enclosed gas cover, save 15%-20% steam consumption compare with semi-seal gas hood;
(2)Drying adopt heat pump system: The drying of the dryer is limited by the orifice plate, most of the soda mixtures are arranged in a soda separator, and the steam from the second steam is pumped out of the heat pump, which is used in the dryer to achieve energy efficiency.
(3)Dryer steam heating system energy saving measures also include adopt many-section desiccation, inner wall of dryer adopt resin film intensification heat transfer, discharge the condensate water in dryer in time, the dryer air inlet adopts rotary joint, use steam trap to prevent leakage, the dryer cover is insulated with insulation, dryer condensate water recycle cyclic utilization.
Here in leizhan we adopt the most advanced spare parts to manufacture every products, which is high quality and energy saving, welcome to consult us for more details: leizhanchina@gmail.com.