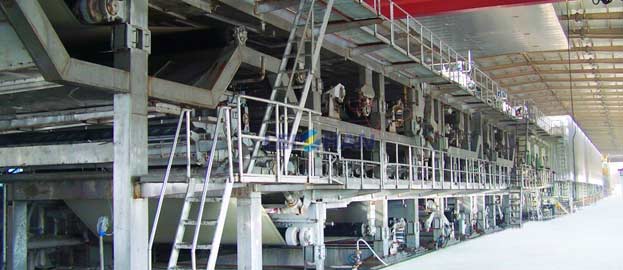 Uncoated paper is used everyday for general office printing, newspaper and book printing. Uncoated papers are better for writing on and reading. Uncoated papers are more porous than coated papers, this means that ink tends to seep into the fibres of the paper. Colours will appear differently when printed on uncoated versus coated papers. Most recycled paper is uncoated.
Leizhan supply the whole Uncoated paper production turn-key project contains pulp production line and paper making machinery for paper plants.
Process of the Uncoated paper pulp production line
Pulping
Cleaning
Screening
Deinking
Refining
Uncoated paper Making Process
The pulp enters the headbox, and then is sprayed in wire part of paper machine.
On the screen, water starts to drain from the pulp, and the recycled fibers quickly begin to bond together to form a watery sheet.
The sheet moves rapidly through a series of felt-covered press rollers which squeeze out more water. The sheet, which now resembles paper, passes through a series of heated metal rollers which dry the paper.
Finally, the finished paper is wound into a giant roll and removed from the paper machine.