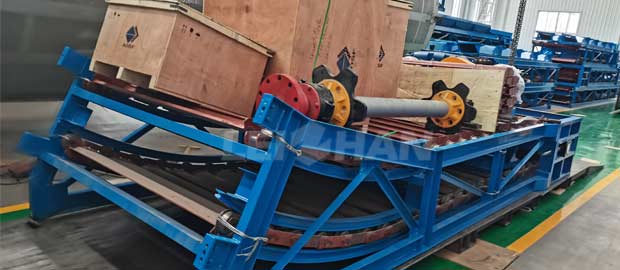 High quality paper pulp making line conveying machine Chain Conveyor shipped to Mexico. The customer ordered Chain Conveyor to used paper making production line. Chain Conveyor has the advantages of high efficiency, large capacity and reduce labor.
Chain Conveyor Main Features In Paper Industry
1. The grooved plate is stamped and formed, with high strength and impact resistance;
2. The conveyor chain plate adopts a closed design to prevent material leakage;
3. Double-row roller traction chain, hollow roller shaft, oil can be injected from the pin shaft to the bushing and tin-zinc-copper wear-resistant bushing;
4. The two rows of chains are connected as a whole by long shafts to prevent the chain plates from running off;
5. The sprocket is made of steel castings to improve wear resistance;
6. The baffle is V-shaped design (greater than the effective conveying width of 400mm) to improve the throughput of materials;
7. Orbital operation, stable, reliable, low friction and low power consumption.
Chain Conveyor has been shipped, if you want to know more about Chain Conveyor or another stock preparation equipment, please contact with us. Email: leizhanchina@gmail.com.