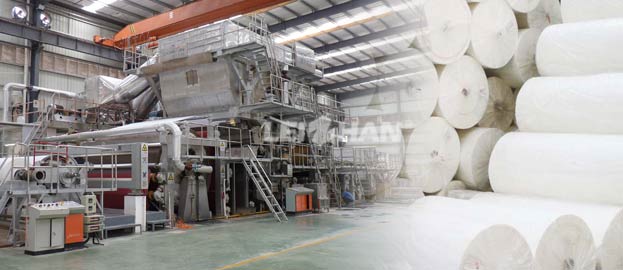 Leizhan engineers help you to choose the suitable tissue production lines based upon capacity requirements. Leizhan can deliver a full facial tissue making system, from the stock preparation to the reel machine, including DCS, QCS control system for paper makers.
To fulfill various demands of customers, Leizhan engineers design different facial tissue paper making solutions for fulfilling different production capacities of tissue paper makers.
Facial tissue paper pulp production line
Pulping: Raw material like wood pulp, recycled paper will be conveyed into H.C. Pulper, D type Hydrapulper for pulping.
Cleaning: Heavy impurities in paper pulp will be removed use High- and Low-density Pulp Cleaner.
Screening: M.C Pressure Screen, Lip Screen, Reject Separator will be used for coarse and fine screening of paper pulp.
Refiner: Pulp Refiner machine will be used for improving the breaking degree of paper pulp.