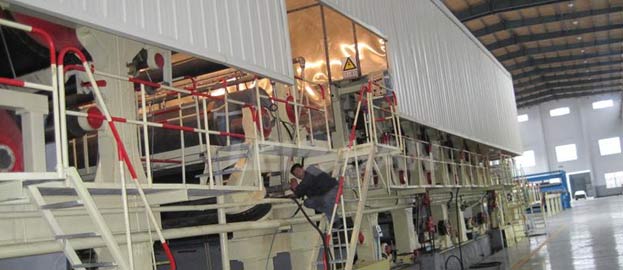 If you want to set up a fluting paper mill? Leizhan professional engineer will design the best project for you, which is lower investment high benefits. We will give you the most sincere advice from 37 years of experience in our clients.
Main Data About Fluting Paper Machine
Raw Material: LOCC/OCC, wood pulp.
Output Paper: High-grade fluting/corrugated/medium paper.
Basic Equipment: Headbox, wire part, press section, dryer section and calendering part.
Needed Paper Machine Spare Parts: Flow slurry box, pomegranates, chest roller, molding board, dehydration board, low wet vacuum box, high vacuum suction box, vacuum couch roll and other components of the roller, drive roller, equipped with wire guide roller, tensioner, corrector, become warped edge device, high and low pressure water spray, chemical spray pipe, cleaning blade, cutting water, water pans, machine frame and other parts.
There are many paper mill nearby Leizhan paper machinery company, and the paper making equipment all purchased from Leizhan. Welcome to visit our factory and the running condition of Leizhan paper machinery.