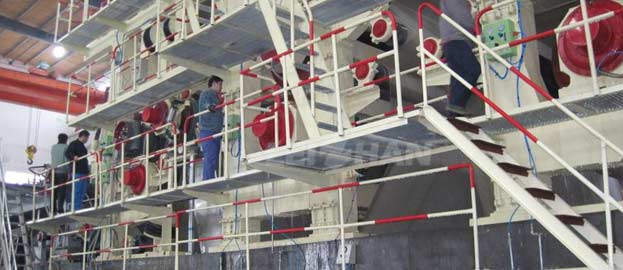 According to the paper making friend's demand, Leizhan paper machinery can design different trimmed width and production capacity Corrugated Paper Machine. Here is the structure description  of the 4200/260 paper machine.
The paper machine line is for 80-170g/m² high-grade corrugated paper production line. Including Long wire forming part, Press section, Drying part, Reel machine part, Foundation part, Auxiliary system of paper machine, etc
Structure Of Corrugated Paper Machine
1. Forming part: Open-type headbox sizing,single long wire forming.
2. ress section: Be made up double MG press roll.
3. Drying part: Twenty-four Φ1800 dryers. Sizing machine array.
4. Reel machine part: Horizontal pneumatic ReHOel Machine
5. Driving part is separately transmission, Ac variable frequency control. The wire part can be seen from the reel machine,driving part is on the left,so it is left-hand paper machine.Conversely, it is right-hand paper machine.
Welcome to contact us for more details: leizhanchina@gmail.com