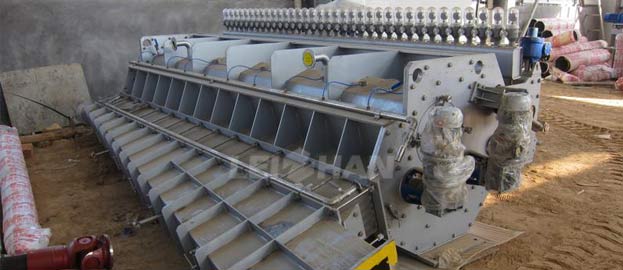 Good or bad paper quality not depend on the former pulp making but related to the final paper making on paper machine, headbox, wire part, press part, drying part, calendering part, each part of paper machine is important to paper quality. Headbox is the heart to paper machine, it directly depned if pulp even distributed on the paper machine wire part, and important to final paper quality. We supply high quality headbox for paper mill, the details as below mentioned.
Paper Machine Headbox Configuration
1. Headbox: Air cushion type headbox
(The basic configuration is a square cone tube, a stepped orifice plate slurry, a double homogenizing roller rectification, a squeezing lip sizing device with an upright lip, and the like.)
2. Pulp even rolls: stainless steel pipe
(Main structure: double spiral line hole, hole chamfering, opening ratio throat nozzle is 39%, and the mouth roller is 50%.)
3. Box body: materials: front wall panel, rear wall panel, side wall panel: stainless steel panel.
(Main structure: box welding, with visual level indicator.)
4. The surface of the headbox in contact with the slurry is mirror-polished, and the cotton ball is wiped to reach the non-hanging wire, the roughness is 0.4 μm.
5. Defoaming device with stainless steel spray nozzle above the liquid surface
6. The headbox support is a long round hole structure for easy adjustment
7. Fasteners: All stainless steel.
8. system structure
The system uses Siemens S7 series PLC as the main control component to complete all control functions. In addition to the total pressure, liquid level sampling, filtering and output control, the PLC also controls and decoupling the control itself, and directly outputs the control inverter to adjust the total pressure and liquid level.
Except headbox, we are able to supply the complete set of paper production line machine, more details, welcome to consult us: leizhanchina@gmail.com.