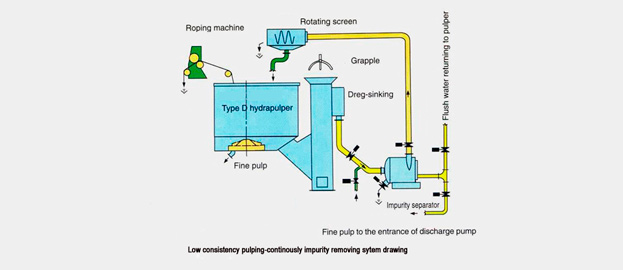 D Type Continuous Beating System is used for beating of  LOCC, AOCC and so on with high content of impurities  and difficulty to beat waste paper raw materials. The system enables plastics,  styrene foam and other light and heavy impurities in the pulp removed from the hydrapulper tank body before impurities  are pulped or entered into pulper plate. In this way, to reduce the impurities content in pulper tank body, make sure pulp beating system works continuously, improve production capacity.
D Type Continuous Beating System mainly consists of D type hydrapulper, Sediment well, Impurity separator, Drum screen, Ragger, Rope cutter and Grapple, etc.
D type hydrapulper and Dreg-sinking well is thee main body of the D Type Continuous Beating System.
Impurity separator draw forth impurities in Hydrapulper periodically.
Drum screen is to dehydrate remove the the impurities processed by Impurities separator.
Ragger is to remove large twisted impurities in D type hydrapulper.
Rope cutter is used for cutting twisted impurities strand from Ragger, easy for transport.
Grapple is to remove heavy impurities in Sediment well.