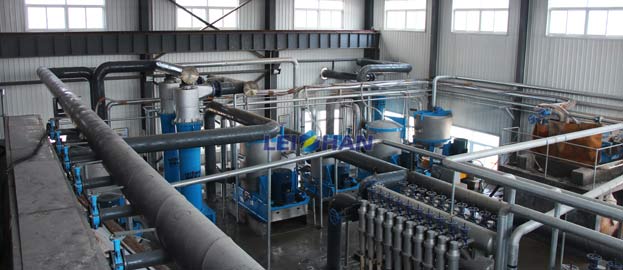 Improved stock preparation line performence
Scientific stock preparation system
Large paper machine not always needs complicated stock preparation system. The best solution is to adopt suitable
stock preparation system. By improving fiber recycling system to reduce power consumption, thus reducing large amount of daily operations. Leizhan has rich experience on designing the whole stock preparation system for customers. We can reduce your cost and improve pulping line performance by replacing key components like screen sieve of pressure screen, rotor, abrasive disc of pulp refiner and so on.
Leizhan process technology for stock preparation system:
Pulping
Screening
Refining
Fiber recovery
Improve stock preparation system performance
Sometimes it is not engough to just replace a process components to achieve the the whole system improvement. Whether you choose virgin fiber or recovery fiber, Leizhan can supply the whole set of stock preparation and pulp processing equipments. We can change your existing stock preparation system to more compact and effective production line, to achieve more effective performance and lower power consumption. Our engineers can design detail process line based on your process demands.
Our experience on pulp processing contains:
Waste paper,paper board pulping system
White shavings pulping system
Newspaper paper, office paper pulping system
Virgin pulp processing system
Fiber reovery system
Secondary fiber pulping and deinking system