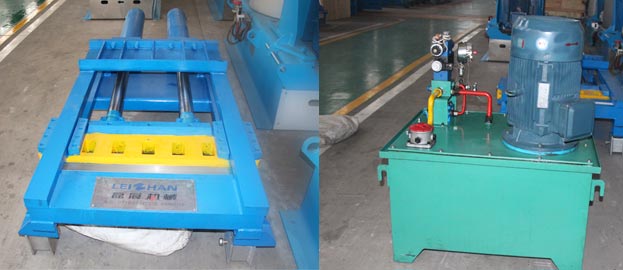 Rope Cutter is a kind of impurity-removing equipment used in continuous pulping system. It is used along with Hydrapulper and Ragger to make the impurity in waste paper such as iron wire, string, plastic and cotton will keep spinning and winding, this will  generate a thick strand during the working. Then the strand will be pulled out and cut into pieces of proposal length by the Rope Cutter.
Components of Rope cutter
Rope Cutter consists of frame, cutter blade, hydraulic cylinder, hydraulic pump station and control Part. Frame is mainly used to fix hydraulic cylinder, cutter and knife case, also it is guide slide rail; Cutter and knife case is main part for rope cutting, they are made of thermal-treated high quality tool steel, which makes them have high hardness,toughness and abrasive resistance; Hydraulic pump station is used to provide hydraulic power for the operation of rope cutter; Control part is used to operate and control cutting process.
Control function of Rope cutter
Rope Cutter can be controlled by inching,linkage and long-range controller(DCS connector is remained on electric cabinet) Equipment main body have no travel switch and no electric components and connection. In this way, all work is controlled by PLC in electric tank. This equipment have better adaptive ability to environment. Specific use refers to control cabinet introduction.
Working principle of Rope cutter
Cutter is fixed on two oil cylinders whose route is 850㎜, its movement is controlled by electric cabinet of hydraulic pump station.