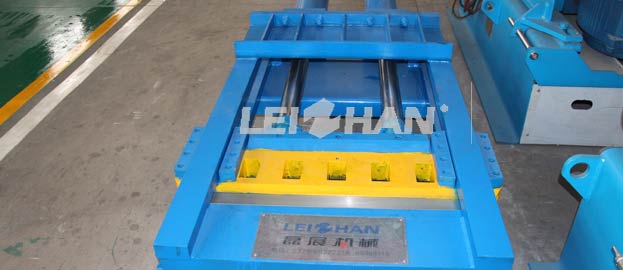 Rope cutter can not use alone, it should used after pulping machine, especially the hydrapulper or pulper. Compared with pulper, rope cutter is mainly removing the twisting impurities like rope, iron wire, plastic, cotton yam etc.
Working Parameter Of Rope Cutter
Rope cutter works depending on the cutting speed, so Leizhan supplies two type rope cutter according to the cutting speed to meet different production need.
The first type is ZTS1, its cutting speed is 0-60m/h and the second one is ZTS2, the cutting speed is 0-50m/h. The cutting speed of ZTS1 is faster than ZTS2, so its running motor power is also bigger than ZTS2. ZTS1 motor power is 0.75kw, while ZTS2 is 1.5kw.
Features Of Leizhan Rope Cutter
Leizhan rope cutter adopt the advantage of other type rope cutter, and then remould it according to Leizhan technology and design. So it has distinguished working performance in:
1. Convenient citing eyelet, which can promise an adjustable positive and negative strand steering.
3. The cutting speed of twisted rope is easy adjusted;
4. Rope cutter is integrated design, which is convenient installation and maintenance.