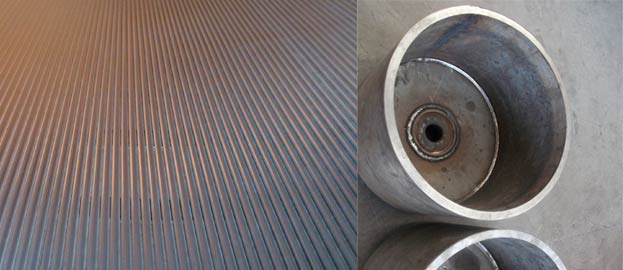 ZNS pressure screen consists of barrel, barrel cover, screen basket, turbine, foundation and transmission part. Wet parts are made of stainless steel.
Screen basket of pressure screen
Screen basket is made of stainless steel. It consists three types: hole, slot and bar type. It adopts electrochemical polishing and hard chromium plating, which make it smooth and abrasive resistant. There is reinforcing ring outside screen basket. The whole basket is fixed on barrel with bolt. Its bottom is connected with barrel by flange. Its top part has round shape weir plate, which forms precipitum pick pan along with cylinder wall.
Turbine of pressure screen
Turbine is cylinder-shape, many raised impellers are welded on turbine inside screen basket, when rotating, the impellers will generate high-frequency impulse which can clean pulp and screen basket hole.
Rotor bearing adopts mechanical seal, which is to prevent pulp leaking and flowing into bearing room. It is equipped with machanical and seal pipe connector, need to keep water pressure being 0.1MPa higher than pulp inlet pressure.