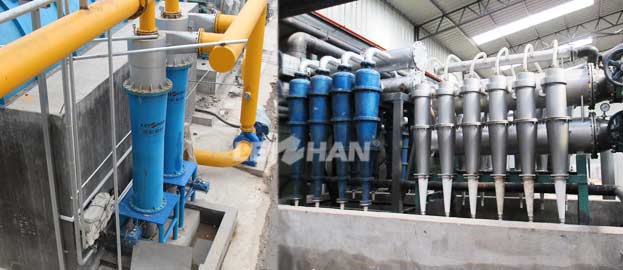 Leizhan manufacture pulp cleaner paper pulp mill machine to remove contaminants that degrade the physical and optical properties of the pulp.
Hydrocyclones
• Seperates high and low density contaminants
• Removal of dirt, grit, sand
• Shive, bark, and stone cell removal
• Plastic contaminant removal
• Removal of waxes, stickies and adhesives from recycled pulp stock
• Pulp stock deaeration
• Fibre fractionation
What are the Main Flow Structures in a Centrifugal Cleaner?
• Inlet/outlets
• Vortex finder
• Air core
• Mantle
• Short circuit path
What Controls the Motion of Particles in a Cleaner?
• Centrifugal force
– Angular velocity of the fluid
– Diameter of the hydrocyclone
– Density of particle
• Drag
– Steady state drag (i.e. Pressure gradient/Inertial)
– Added mass, lift, etc.
Types of Hydrocyclones Used in the Pulp and Paper Industry
• Forward Cleaners
– high density
– medium density
– fine forward cleaners
• Core Bleed Cleaners
• Reverse Cleaners
• Through Flow Cleaners