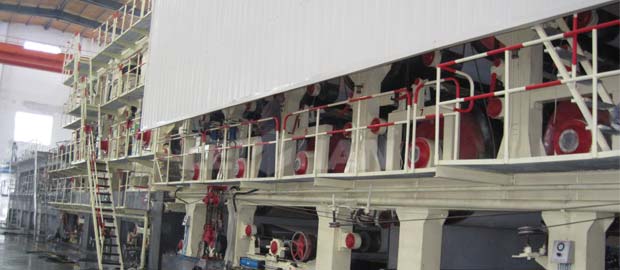 Fluting cardboard paper is widely used in carton box making industry. 4300mm high grade fluting paper machine consists of doule layer wire part, press part, drying part, reel part and calender, etc. Leizhan provide unit double layer fluting cardboard paper production line, included pulp pulper, pulp screening and pulp cleaning, etc. High quality and low energy consumption and high grade final paper.
Main Technical Parameters Of Fluting Paper Machine
Main products: High grade fluting paper, T-paper
Trimmed width: 4300mm
Basis weight: 120-250g/m2
Production capacity: 100-120t/d
Working speed: 140-200m/min
Design speed: 220m/min
Online pulp concentration: 0.6~0.9%
Dryness of each part of the paper machine: Outlet section ≥20~22%
Lateral shrinkage (average): ≤3.5 to 4.5%
Compressed air pressure: ≤0.6MPa
Leizhan provide complete fluting paper stock preparation line machine and whole set of technical service, whatever established a paper mill or upgrade paper production line. Welcome to contact us to know more details about 4300mm fluting paper machine. Email address: leizhanchina@gmail.com.