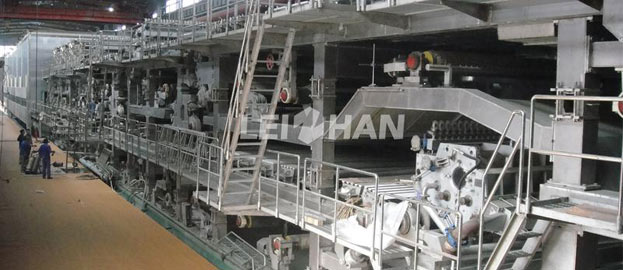 Leizhan always concentrate on paper pulping equipment, which have rich experience over 35 years. The whole pulping production line of 500t/d corrugated and kraft paper, which including waste paper conveying system, pulping system, coarse and fine screening system, deslagging system, headbox flow system.
Equipment Of Paper Manufacturing Line
Conveying system: Chain Conveyor
Pulping system: Drum Pulper, D Type Hydrapulper, H.C.Hydrapulper, M.C.Hydrapulper, Vertical Hydrapulper
Screening system: Mid Consistency Pressure Screen(Out-flow Pressure Screen), Up-flow Pressure Screen
Deslagging system: High Density Cleaner, L.D.Cleaner.
Headbox flow system: Inflow Pressure Screen, Pulp Pump, etc.
Function Of Paper Making Machine
Pulp Chain Conveyor: Mainly used for conveying various kinds of pulp board, waste paper in bulk and in bundle which can be horizontal conveyor or inclined conveyor(<30°);
Pulp Hydrapulper:Continuously pulping waste paper to remove impurities like plastics.
Pulp Pressure Screen: Mainly applied for coarse and fine screening of various waste paper pulp.
Cleaning machine: Mainly used for remove all kinds of heavy impurities in paper pulp, like staples, stones, glasses, gravel, scrap iron, dust , large ink particles, etc.
Competitive Advantages
Leizhan is always step ahead in the whole paper machinery industry, we can not only supply advanced pulping machine, but provide also professional paper machine, if you have any need, feel free to contact us: Email: leizhanchina@gmail.com