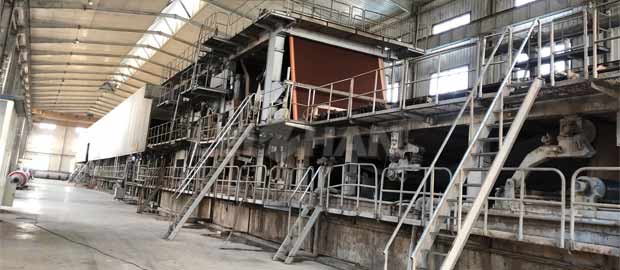 The 5600mm corrugated paper machine use 100% waste paper as raw material to make A grade high strength corrugated paper. The device of corrugated paper machine adopts many advanced technologies of high-speed paper machines to ensure its excellent papermaking performance。More technical data and 5600mm corrugated paper machine structure as below.
Main Data of Corrugated Paper Machine
Paper grade: A grade high strength corrugated paper.
Trimmed width: 5600mm
Basis weight: 80-130g/㎡
Working speed: 800m/min
Transmission speed: 900/min
Structure of Corrugated Fluting Paper Machine
1. Headbox: The 5600mm corrugated paper machine uses a hydraulic headbox to distribute the slurry neatly to obtain the best uniformity and quantitative width.
2. Wire part: The wire part adopts the international advanced top net former to effectively improve the evenness and smoothness of the finished paper.
3. Press part:The press section is mainly composed of two large roll diameter presses. Due to the high speed of the paper machine and the large width, the paper web from the wire section to the press section and to the dryer section are all vacuum sucked and guided.
4. Dry part: The drying part uses a single-row dryer with a single felt and paper drying. The upper row is a dryer, and the lower row is a vacuum roller.
5. Reeling part: The reeling part adopts a horizontal pneumatic reel.
Want to know more details about 5600mm corrugated paper machine, please feel free to consult me. Leizhan offer complete waste paper recycling pulping line stock preparation line equipment. Email address: leizhanchina@gmail.com.