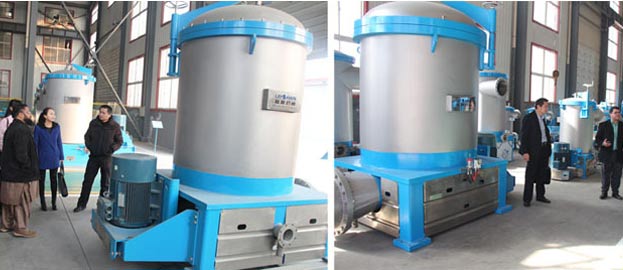 Pulp Inflow Pressure Screen machine is an indispensable equipment in pulp flow system, always used before headbox or cylinder mould to flow slurry, especially have good effect of homogenate to stock, contribute to get high quality paper.
Features Of Inflow Pressure Screen
1. Outer rotor rotates in the sieve drum, heavy impurity flowing away from the drum sieve, sieve slit clogging of screen drum life is greatly increased;
2. Streamlined rotor, plasma flow smoothly, pulsed low intensity;
3. Pairs of impurities and fiber bundles good separation sieve slit clogging.
4. Low pulse, high screening efficiency, reliable operation.
5. Equipped with automatic oiling device to reduce maintenance;
6. Seal water flow automatic detection and alarm devices to ensure safe operation of equipment.
Leizhan can supply the whole paper stock preparation line, which includes pulping, screening, cleaning, refining system. And Drum Pulper, Mid Pressure Screen, High Density Cleaner, Double Disc Refiner is vital paper making equipment in Leizhan. If you have any need, welcome to consult us: leizhanchina@gmail.com