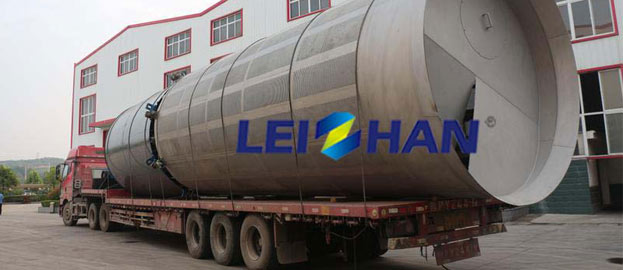 Drum Pulper can be applied to the pulping process of packaging/wrapping paper, cultural paper, toilet paper, etc. Mainly used for continuous gentle pulping and coarse screening of waste paper under high consistency. Simplify the process.
Feature Of Drum Pulper
Paper Drum Pulper machine can be divided into three parts in waste paper recycling process.
1. Pre-soaking area: Add hot water and chemicals, make it reach a certain concentration.
2. Beating area: Continuous gentle pulping and coarse screening under high consistency(14%-18%) to uttermost maintain the physical property of fiber.
3. Screening area: there is flusing pipe in the drum, cleaning the pulp and make the impurities desperate from stock.
Drum Pulper Specification
1. Raw Material: OCC, LOCC.(waste paper)
2. Production Capacity: According to your needs.(Always ≥80t/d)
3. Material Of Machine: 304 stainless steel.
Leizhan Drum Pulper is high quality and on hot sale now, if you have any question or need, welcome to consult us: leizhanchina@gmail.com