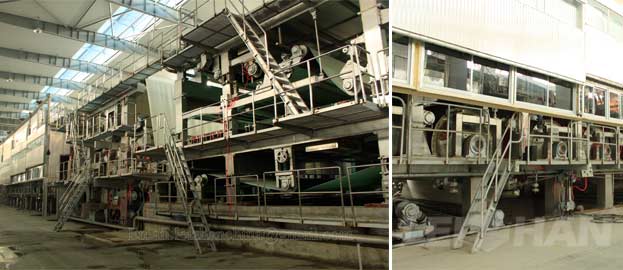 Many customer require the information about flute and testliner paper making machine, here are the specification about kraft liner board paper machine as reference.
Kraft Liner Board Paper Making Machine
Paper kind: Kraft liner board paper machine
Basis weight: 127-300g/m², general is 175g/m²;
Pulp ratio: Top layer is 100% import natural color wood pulp board, liner and core is 50% American waste paper and 50% wood pulp, bottom layer is American waste paper : wood pulp= 3 : 7
Production capacity:688t/d,(100% efficiency, basis weight 175g/m², working speed is 600m/min;
Dryness: After press: 46%-48%, paper reeling machine: 92%;
Design speed: Wire width: 5050mm, paper width on paper reeling machine: 4550mm, final paper width: 4500mm.
We supply the complete set of flute and testliner paper making machine, welcome to consult us for more details: leizhanchina@gmail.com.