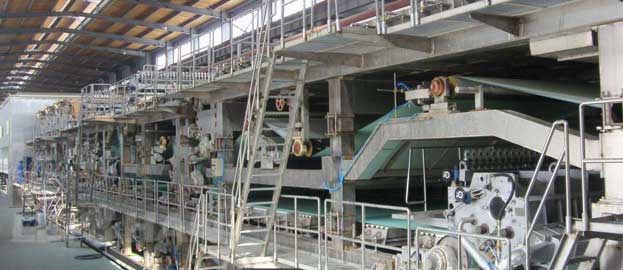 One of our customer purchased 150t/d whole kraft testliner paper making line machine from us, the paper machine part adopts opened headbox, the forming section adopts triple layers form, the press section adopts one vacuum press and two large diameter roll press. The press section adopts a pneumatic pressurizing system, and the drying section adopts a ladder type tooth box and a square box type frame with good ventilation performance. The paper machine adopts a semi-opening type hood and a full digital control AC frequency conversion section transmission scheme.
Kraft Testliner Paper Making Process
Opened headbox–triple fourdrinier wire–one vacuum press roll–two φ1350 diameter press roll–26 φ1500 dryer cylinder(8+8+10)–sizing machine–14 (8+8+10)dryer cylinder(6+8)-B/M motor–horizontal reel machine
Testliner Kraft Paper Production Machine
Main product: Kraft paper
Basis weight: 80-300gsm
Width of paper: 3200mm
Paper roll width: 3350mm
Production capacity: 150t/d
Working speed: 250m/min
Design speed: 300m/min
Crawling speed: 25m/min
Dynamic balance speed: 300m/min
Width of wire: 3750mm
Lip width of headbox: 3600mm
We provide the full production line of kraft testliner paper making machine, the stock preparation line machine include waste paper conveying, waste paper pulping, screening, cleaning, refining machine is all in our supply scope, if you want to set up kraft testliner paper mill, welcome to consult us. Email: leizhanchina@gmail.com.