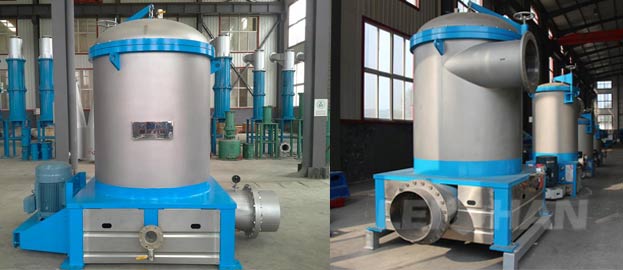 M.C. Pressure Screen and Inflow Pressure Screen both play an important role in paper pulping process. They have very similar appearance, but has totally different function. Here is the same point and difference between M.C.Pressure Screen and Inflow Pressure Screen.
Same Point
1. Both own automatic oil injection device(import from Korea) and seal water flow detection alarm device(import from Finland), ensure the pulp equipment running safely and stably.
2. Manual weld, sandblasting, beautiful surface and prolong it's service life.
3. Advanced structure, sturdy and durable, convenient disassembly and assembly, simple operation, less maintenance for continuous working, reduce investment.
Difference Between M.C.Pressure Screen And Inflow Pressure Screen
1. Utilized location: M.C.pressure used in pulping process to coarse and fine screening, Inflow Pressure Screen used before headbox or cylinder mould to flow pulp.
2. Different screen basket: m.c pressure screen has smooth inner wall and inflow pressure is in contrast.
Leizhan improved technology continuously to enhance the user experience for our mutual benefits, if you have any need, feel free to contact us: leizhanchina@gmail.com.