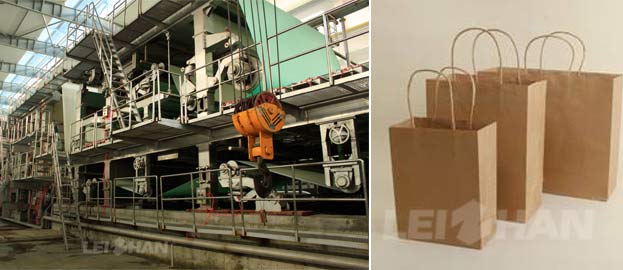 With the enhancement of environmental awareness, paper bag is more and more popular in our daily life. Paper bag not only improve the level of the commodity, but reduce the pollution from plastic bags. Leizhan manufacture the whole line of paper bag making machine, which from the stock preparation to paper bag making.
Machinery Details For Make Paper Bag
At present, paper bag is usually made of kraft paper, kraft paper making always adopt waste paper or pulp board, the pulping line equipment include Drum Pulper( Hydrapulper ), High Density Cleaner and Low Density Cleaner, M.C.Pressure Screen, Apple Screen, Reject Separator, etc. The equipment is different according your requirement to the paper's quality and raw material.
After the pulping line, the pulp is sent to paper machine through a series of press and dryer etc form to the final kraft paper, then use professional paper bag making machine make the final paper bag.
Paper bag package has the advantages of low cost, forming convenient, diversity, beautiful printing, green and environmental protection, etc. And with the development of logistics, start a paper bag making line is a pretty choice, if you are interested, welcome to consult us for more details: leizhanchina@gmail.com.