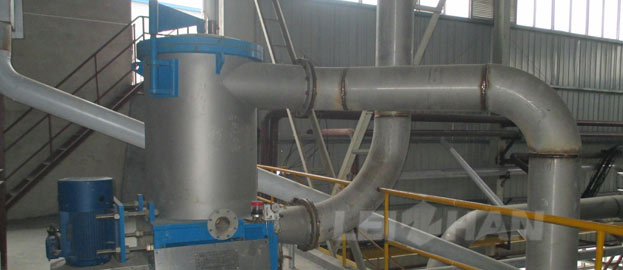 Headbox screen is used for fine pulp for paper pulping system or paper machine approach system. This equipment mainly consist of shell, rotor, screen basket, transmission device, lift device, etc.
Headbox Screen Features
1. High screening efficiency: Because pulp get into screen baskets with pretty high pressure along the tagent line, by centrifugal force, the pulp is separated from the coarse impurities before entering the sieve. The qualified fibers depend on the pressure difference of the inlet and outlet to quickly pass the drum;
2. Long service life of screen baskets: Stainless steel material, because heavy impurities have been separated by cebtrifugal force, therefore, relief the impact and wear of impurities to rotor wing and screen baskets, prolong it's service life;
3. Not block when screen pulp: Pulp screen evenly from up to down, no thickening, impurities far away from the screen baskets, not easy to block.
4. Can replace Low Pulse screen: The pulse strength of this machine is low, directly go to wire don't produce disturb;
5. High quality output pulp, headbox screen baskets is made of stainless steel, pretty slim screen slot, greatly improve the efficiency of impurities removal.
6. Low maintain cost: The main shaft adopt advanced mechanical seal system, not easy to broken;
7. Paper machine approach system headbox screen equipped with Korea automatic oil injection device, Finland seal water flow automatic detection alarm device.
Any more details about paper machine approach system headbox screen, welcome to contact us: leizhanchina@gmail.com.