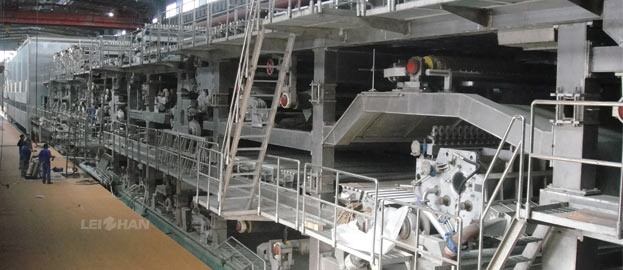 The refined kraft paper use sulfate as raw material, because of lighter color, has good smoothness and high strength, stable quality. As a popular packaging material, has replaced natural kraft paper in wide range, here are the production process of refined kraft paper.
Refined Kraft Paper Making Process
To produce refined kraft paper, adopt general sulfate method, use larch wood pulp and a little hard wood pulp as raw material. The bleached process is: Pulp consistency 3.5%, temperature 30-40℃,bleached time 3-3.5h, whiteness35%-40%. When whiteness require to the production requirement, though vacuum stock washer then sent to pulp chest. The bleached pulp adopt 450 Double Disc Refiner pulping, the pulping consistency is 3.0%-3.2%, the degree of beating is controlled from 28-32 SR. The paper pulp after sizing is sent to conical cleaning machine, after the selection of the rotor, made the final kraft paper by kraft paper machine.
There are also many advantages to produce kraft paper use pypocholoride, but it has high degradation to cellulose and semi-cellulose. So it's better to use general sulfate.