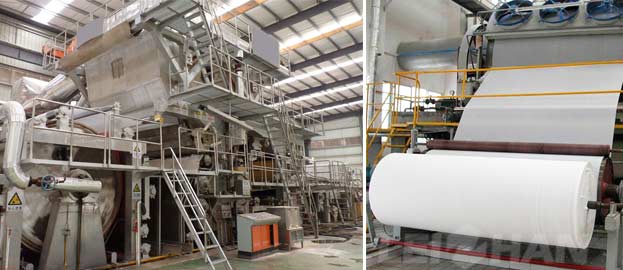 Facial tissue, toilet paper, napkins, kitchen paper, paper towels, etc household paper is essential to life contemporary consumer groups essential consumer goods, with the improvement of life standards, the requirement for the tissue softness is increasing. Leizhan manufacture the complete set of household paper manufacturing machine. Following are the details.
Household Paper Making Machine
The whole household paper making line include stock preparation and paper machine part.
Stock preparation line: Hydrapulper→High Density Cleaner→Pressure Screen→Tailing Dealing Device→Low Density Cleaner→Refining Machine
Paper Machine Part: Pulp Approaching System→Headbox→Wire Part→Press Part→Dryer Part→Reeling Machine.
We supply the whole household paper making unit, include the selection of raw material in earlier stage to the final installation and test running, we provide the complete service for paper making friends, welcome to consult us for more details: leizhanchina@gmail.com.