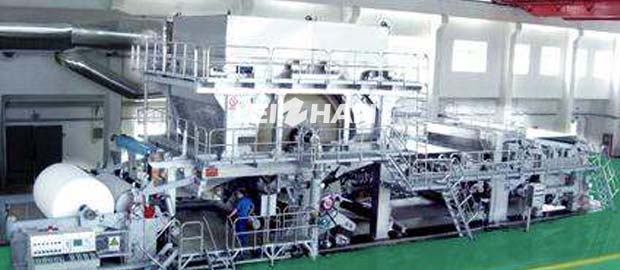 In general, the small capacity toilet paper machine is mainly used to produce living paper, which final product can be cut into tissue paper, hand towel paper, napkin paper and facial tissue paper and so on. Leizhan paper machinery can provide whole toilet paper machine production line from raw material to paper rewinder. Small capacity toilet paper machine data as blow:
787 toilet paper machine data
Trimmed width: 787mm
Basis weight: 25g/m²
Operating speed: 335m/min
Capacity: 2-10t/d
Rule: 1300 mm
Wire width:1100mm
Transmission mode: AC frequency conversion control, split transmission
Pulping line equipment:M.C.hydrapulper,high density cleaner,DD refiner,inflow pressure screen
Toilet Paper Machine Paper Pulp Processing Line
Wood pulp enters into middle consistency hydrapulper, slurry go in high density cleaner to remove heavy impurities, and then enters double disc refiner to improve degree of resolution, next enters approach flow system to go in toilet paper machine.
Small capacity toilet paper machine pulping equipment has sold in many countries, such as India, Bangladesh and South Africa. We can not only provided high quality equipment, but also furnished the most intimate after-sales service and staff training. Any questions about small capacity toilet paper machine, contact with me. Email address: leizhanchina@gmail.com