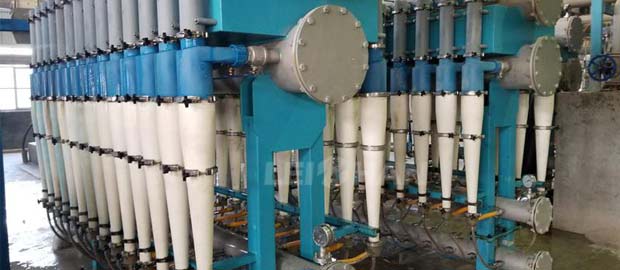 Low density cleaner is also called centri cleaner, mainly used for removing heavy impurities in the pulp like gravel, scrap iron, dust and large ink particles. In the pulp processing line, low density cleaner usually used after fine screening system. The new type low density cleaner is closed slagging and adopted PLC control and equipped wear- resistant ceramics. The centri cleaner/ low density cleaner has the advantages of high efficiency, stable slagging and long service life.
Main Specifications of Low Density Cleaner
Type: KH400, KH600, KH800, KH1000, KH1500
Passing capacity: 400-1500m/min
Inlet consistency: 0.3-1.5%
Pressure of inflow pulp: 0.2-0.4mpa
Diameter of deslagging outlet: 4-18mm
Pulp cleaning machine low density cleaner in waste paper recycling processing line. Excellent remove heavy impurities ability and low energy consumption. Want to know more about recycling paper machine or low density cleaner, contact us. Email address: leizhanchina@gmail.com.