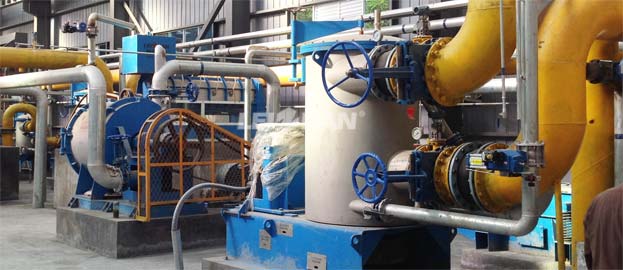 Duplex board paper pulp production solution, part of Leizhan engineers' research field, has successfully carried out in many customer's factory.
Leizhan delivers complete set of duplex board paper making unit for paper makers based wood pulp, waste paper as raw materials. The whole production line contains two parts: Stock preparation system and Paper production machine.
Take Uzbekistan customer's 30T/D duplex board paper pulp making project for example, Leizhan engineer group gave the following solution based on its raw material, production capacity and finished paper type.
10t/16h top layer wood pulp stock preparation system
ZDS23 Hydrapulper-ZSC2 High density cleaner-ZM450 Conical refiner-ZDP450 Double disc refiner
30t/16h LOCC pulp production line for Duplex board making
ZDSD23 D Type hypdrapulper-ZSC3 High density cleaner-ZNS0.3 Mid consistency pressure screen-PZ2 Reject separator-ZNS0.6 Mid consistency pressure screen-ZSC3 Mid density cleaner-KH600 Low density cleaner-ZNS0.3 Second stage mid consistency pressure screen-ZDP450 Double disc refiner-NLS0.6 Inflow pressure screen