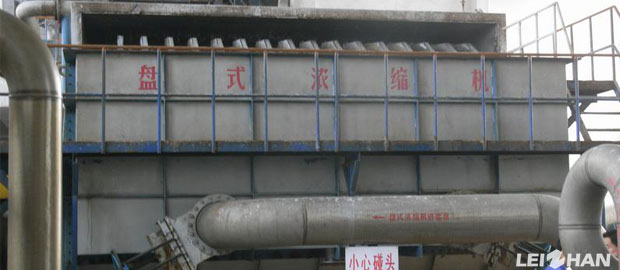 The disc thickener is different from traditional vacuum disc thickener, there is unnecessary to install in the higher floors and the installation of water legs, it can replace the traditional gravity cylinder thickener.
Working Principle Of Disc Thickener
The gravity disc thickener consists of fan plate and chest ,etc. Pulp into the chest by pulp inlet, continuously fed to the sides of the fan-shaped plate through the partition plate. The rotate of disc bring stock to the surface of wire, through high pressure water wash to remove disc stock, and filter liquor import into big shaft through the headrace in the middle of disc. With the running of disc plate continuously, due to the continuous discharge of the filtrate, the pulping consistency in the chest is increased, and the pulping overflows to the outlet when the liquid level in the tank is higher than the level adjustment plate .
The Advantages Of Gravity Disc Thickener
1.Compact structure, little assembly space.
2.The fan plate is made of stainless steel welding, and it has wear-resistance ability.
3.Because of the special design of fan plate, when it running, it can filter a lot of white water.
4.Compared with cylinder thickener, filtration area is large, the release of low consistency of filtrate
5.The disc plate is easy to assemble and disassemble.
Leizhan provide complete stock preparation line equipment, Welcome to contact with me about more details. Email address: leizhanchina@gmail.com