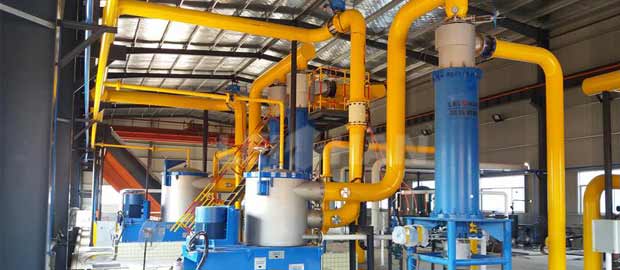 Pulp cleaning machine H.D. Cleaner mainly used to remove heavy impurities like stones,glasses and staples, etc. HD cleaner is an ideal choice for purifying paper pulp, especially for purifying waste paper pulp. The high density cleaner has advantages of high capacity, less fiber loss and excellent remove impurities ability, etc.
Structure Of H.D. Cleaner
H.D. cleaner is composed of inlet and outlet slurry pipes, upper cone, lower cone, backwash water channel, sediment tank and other components. The automatic slag discharge is equipped with a pneumatic valve and PLC control cabinet. Due to the unique design based on the principle of liquid mechanics, HD cleaner can work in the process of high-concentration slurry transportation. The slurry passes through the cleaner at a time, and the accepts slurry in the impurities is backwashed by pressure water, and the fiber loss is almost zero.
Pulp cleaning machine high density cleaner has perfect treatment slurry effects, thereby enhance the profits of paper mill owner. Leizhan is professional manufacturer of pulping equipment. Any technical problems, please feel free to contact with me. Email address: leizhanchina@gmail.com.