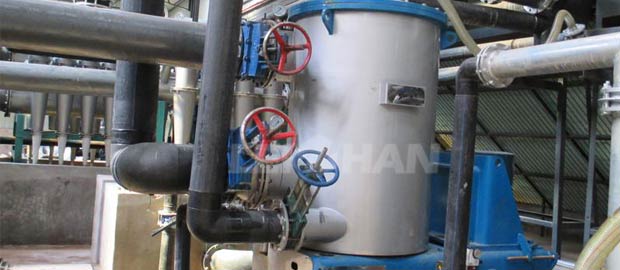 There are many screening equipment in various paper production line, which can screen pulp normally under high consistency and reduce the amount of water cycle and system energy consumption in production process. In the stage of coarse screening needs middle consistency coarse screen to deal with slurry. Next stage needs middle consistency fine screen to treatment slurry. But what is the difference between coarse screen and fine screen?
1.The size of screen basket: Coarse use hole screen, fine screen use sieve screen
2.Configuration: Coarse sieve is equipped with a mouth for discharging heavy impurities. Fine sieve is not available.
3.Position in pulping line: Paper pulping– high density cleaner– coarse screen(treatment tailing)– fine screen– refining equipment– low density cleaner– approach system before paper machine.
Our screening equipment adopted advance technology and some imported parts, high efficiency screening ability and reduce energy consumption. Any more details, please contact with me. Email address: leizhanchina@gmail.com.