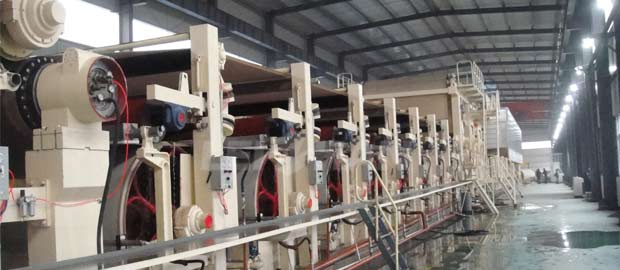 The yarn tube roll paper is a thin steel paper, which is tough and wear-resistant. The paper surface is smooth and even, with good water resistance. Yarn tube paper is mainly used in the production of cores and pipes, industrial tubes, mulch tubes, fireworks tubes, honeycomb cardboard, etc. Leizhan provides whole set line equipment to make yarn tube paper from waste paper recycling machine to yarn tube making machine. High efficiency, high output and low energy consumption.
Main Specifications Of Yarn Tube Making Machine
Paper grade: yarn tube paper, bobbin fibre paper, spool paper
Raw material: waste paper
Trimmed width: 1575-4800mm
Basis weight: 350-1000g/m²
Operating speed: 80-200m/min
Production capacity: 50-500t/d
The sales direction of bobbin paper is very wide, more and more customers are willing to invest and set up factories. Leizhan offer whole set line of yarn tube making and has professional technical group to solve your doubt. Any more details about yarn
tube making line, contact us. Email address: leizhanchina@gmail.com.