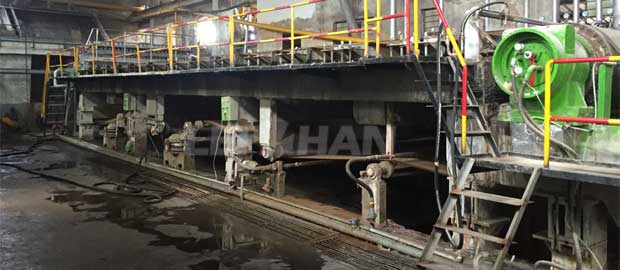 2500mm high strength corrugated paper machine that make corrugated paper and cardboard. The corrugated paper machine is composed of double layer forming part, press part, drying part, reeling part, foundation part and paper machine auxiliary system, etc. The client use waste paper as raw material, and then enters into pulper, screening, cleaning, refining, and final into corrugated paper machine. Leizhan provide complete stock preparation line equipment.
Technical Parameters Of 2500mm Corrugated Paper Machine
Main products: High strength corrugated paper / cardboard paper
Basis weight: 80-200g/m²
Trimmed width: 2500mm
Working speed: 300m/min
Designed speed: 350m/min
Crawling speed: 25m/min
Dynamic balancing speed: 500m/min
Gauge: 3500mm
Leizhan offer turnkey project complete production line of 2500mm high strength corrugated paper machine, included stock preparation line and paper machine section. Contact us for more technical details. Email address: leizhanchina@gmail.com.