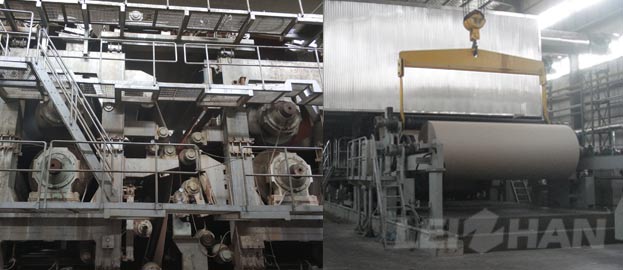 Fluting corrugated paper production line machine include waste paper recycling line and fluting corrugated paper making, and fluting paper machine is consist of multi-layer forming part, press part, dryer part, paper sizing machine, paper winding machine, foundation part, paper machine auxiliary system. For 300t 4500mm fluting paper making machine, the details as below.
4500mm Fluting Paper Machine
Forming part: Air cushion type headbox sizing, double wire forming(top wire 7.5 meters, bottom wire 21meters)
Press part: Two double felt big roll press(Φ1500/Φ1500)
Dryer part: Φ1500mm paper guide cylinder, 3 pieces UNO cylinder, 33 pieces dryer cylinder. Arrangement: 1+(3+3)+8+10+ sizing +12 + horizontal paper reel
Transmission system adopts split transmission, AC frequency conversion speed control
The fluting machine looks the wire part from reeling machine, and the transmission is on thr right side, is right hand machine, and vice versa.
300t Fluting Paper Making technical Conditions
Pulp ratio: Domestic waste paper
Paper shrink rate: 4.5%
Banner quantitative difference: ±1.5%
Fluting paper machine dryness of each part:
Out of wire part: ≥22%
Out of press part: ≥45%
Finished paper: 92%
We make the whole fluting corrugated paper production line machine, include waste paper breaking, pulping, pulp screening, cleaning, refining, pulp approaching, paper making etc, more details welcome to consult us: leizhanchina@gmail.com.