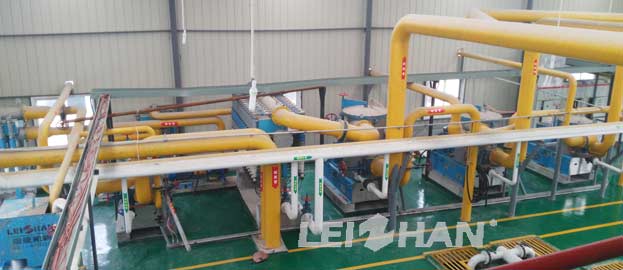 Waste paper is always used to as the raw material for producing corrugated paper, kraft paper or culture paper and so on. So the waste paper pulping line can decide the finished paper quality and the paper production efficiency.
30t Waste Paper Pulping Machine List
Working time: 18h/d
Production capacity: 30t
Running system: automatic control system
Needed machine:
ZDSD23 D Type Hydrapulper, KS Unload Pulp Pump, ZSC4 High Density Cleaner, PZ2 Reject Separator, ZTJ850 Agitator, ZDP450 Double Disc Refiner, Screen Used Before Net, Inclined Screen
Energy consumption: water power and electric energy
Pulping stage:
First stage M.C. coarse screening
Second stage M.C. coarse screening
Remarks:
1. Inclined screen supplied by paper mill.
2. The production period settled by needed machine number and production specifications.
3. Leizhan supply wearing parts.

Pulping Machine Specification & Technical Data
Cause the production capacity is 30t/18h, so the pulping machines also adopt to small power. For example, ZDSD23 D Type Hydrapulper has a 5m³ normal volume and the production capacity is 30-60t/d. PZ2 Reject Separator can remove 30-60t/d impurities per day.
Besides, the equipped machines are all customized according to the paper mill need and practical situation.