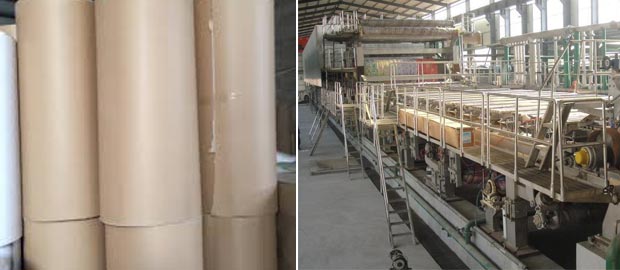 3200mm double wires multi-cylinder corrugated paper machine mainly used to make 100-200g/㎡ high strength corrugated paper. The final produce is corrugated paper roll. The corrugated paper machine is composed of wire part, press part, drying part, sizing part and reeling part. The final corrugated paper roll can be process into carton box.
Main Data of 3200mm Corrugated Paper Machine
Main product: high strength corrugated paper
Basis weight: 120-200g/㎡
Trimmed width: 3200mm
Production capacity: 100-110t/d
Working speed: 180-250m/min
Design speed: 260m/min
Dynamic balance vehicle speed: 350m/min
Net width: 3700mm
Width of headbox lip: 3550mm
Track distance: 4300mm
Transmission mode: AC motor variable frequency speed regulation branch transmission
Layout form: single-layer layout
As a professional manufacturer of paper pulp production line machine, leizhan offer unit pulp pulper machine, pulp cleaning machine and pulp screening machine, etc. If you interested in paper making project, please contact us for more details. Email address: leizhanchina@gmail.com.